October 29, 2020
Throughout the existence of Timebase, we have been concerned with an interesting question: What is more profitable for a company: to hire new people or to properly manage existing ones? We believe that instead of spending a lot of money on hiring new employees, companies could, instead, learn how to listen to their existing people and properly involve and manage them.
At Timebase, we service on a daily basis exclusively professional services companies, such as legal/law, IT and software outsourcing, design, PR, marketing, branding, engineering and consulting companies. For such companies human resources are at the forefront of their businesses, as employees are their key assets. Working with these companies hand-to-hand we have properly studied all their processes related to human resource management and implemented them in Timebase. Let's look how you can manage employees and their staffing using Timebase:
1. Start with quality recruiting by storing properly all the employee info. After you've finally hired the best lawyer, IT developer, engineer, analyst or consultant, you'll need a platform where you need to organize and store all the needed data about your employee. In Timebase you can create team members' profiles, assign them to various departments, use different project and client billing rates, automatically calculate wages and bonuses and see the general workflow of your workers. Timebase will help you optimize the working process and keep the chaos away.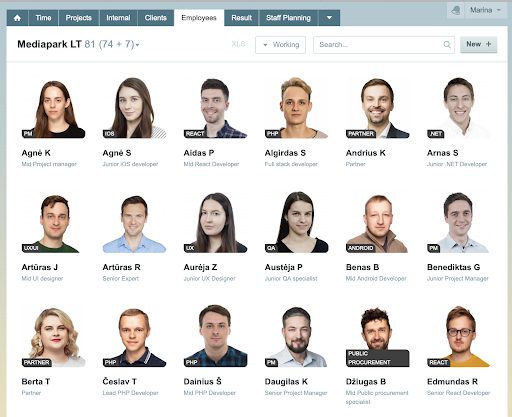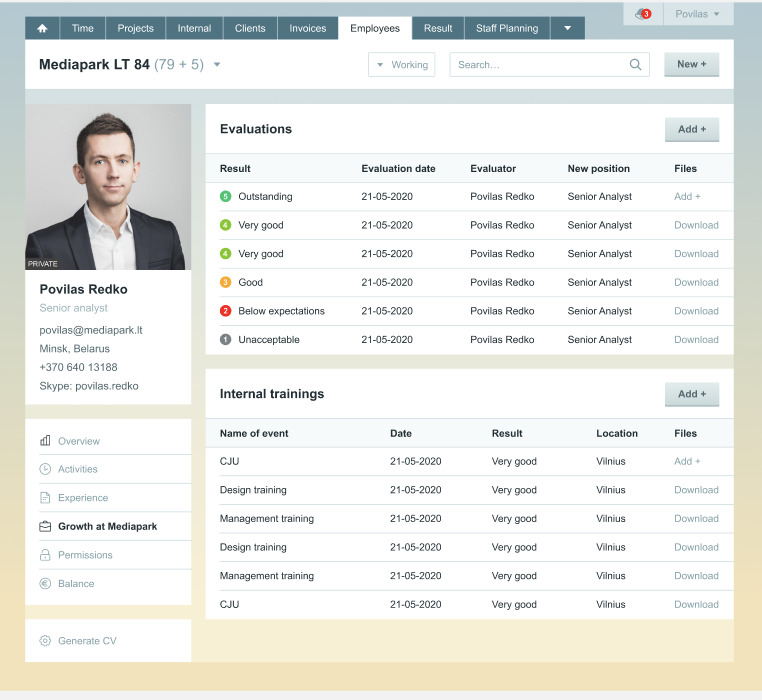 2. Track and evaluate career development of your employees. It is very important to properly track the career development of your team from the very beginning. Our staffing tool allows companies to store and monitor the history and results of employee evaluations, career goals, employee related KPIs and their achievements. This staffing solution offers any manager and HR to properly monitor career development of an employee, as well as notice problems within the team and solve them before they escalate.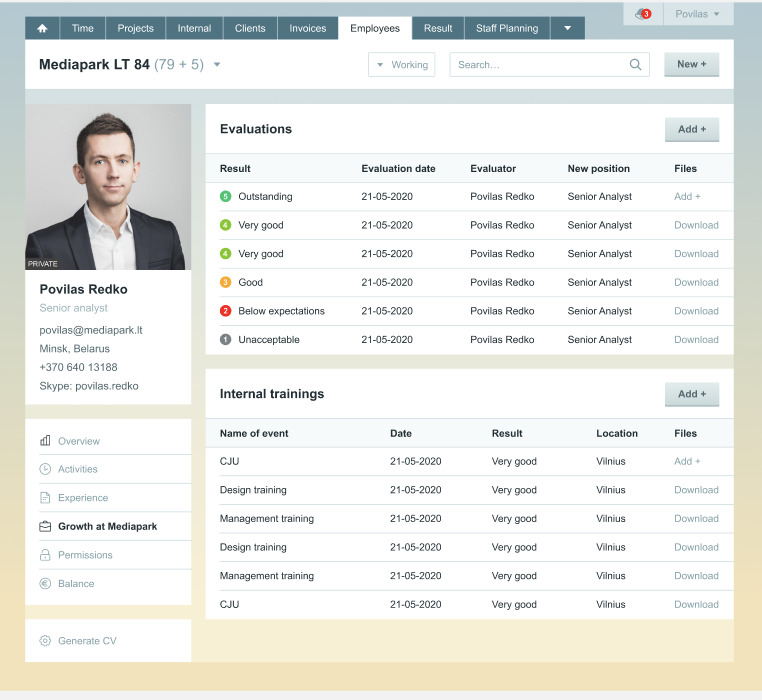 3. Plan staffing of employees on projects. Transparency while staffing employees on projects is another great approach that helps to retain and not overload people. Both project managers and employees should be aware of what projects are planned for them in future and in which capacity. By indicating properly for how many hours and on which projects the person will be staffed, you will surely avoid situations in which a person is overloaded and eager to change the job. Moreover, a proper staffing tool helps any employee to see other team members' workload, which ensures full transparency towards all staff, a detail that encourages mutual trust and equal attitude towards all members of the company. As for managers, staffing platform would provide a full understanding of the current situation and help to see the perspectives (which people need to be staffed, who is understaffed).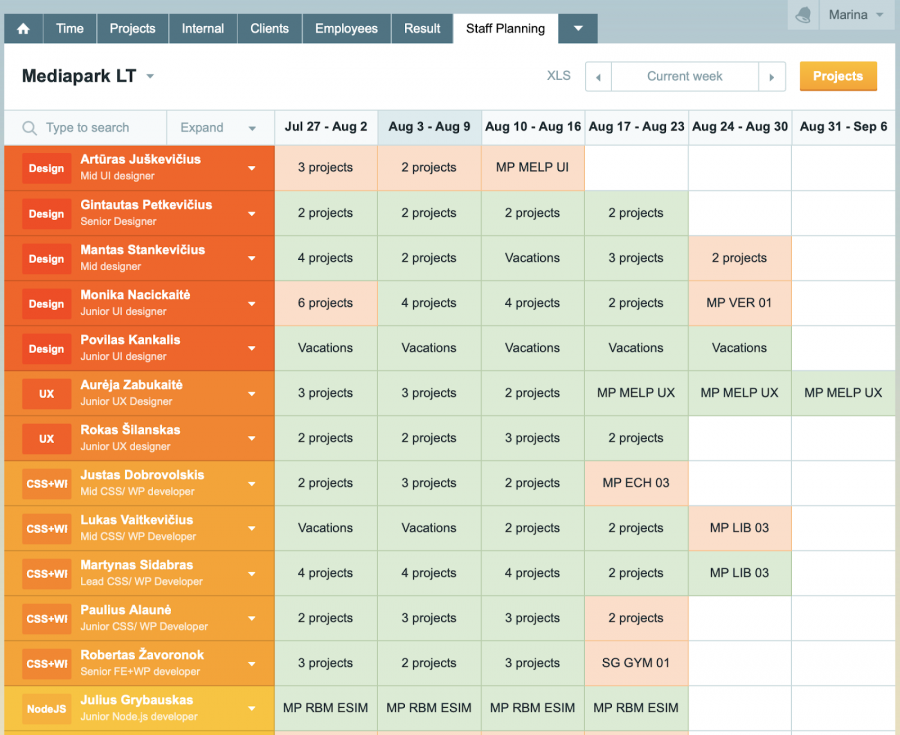 4. Monitor effectiveness & KPIs of your employees. Understanding the level of effectiveness and efficiency of employees or departments by tracking people or department related KPIs and comparing them helps rationally assess the performance of your team. Timebase employee management and staffing platform automatically creates reports and dashboards on all working activities of employees and their effectiveness. These reports help managers to determine the most performing employees, on which clients they are involved the most and if the people are utilized correctly on the projects.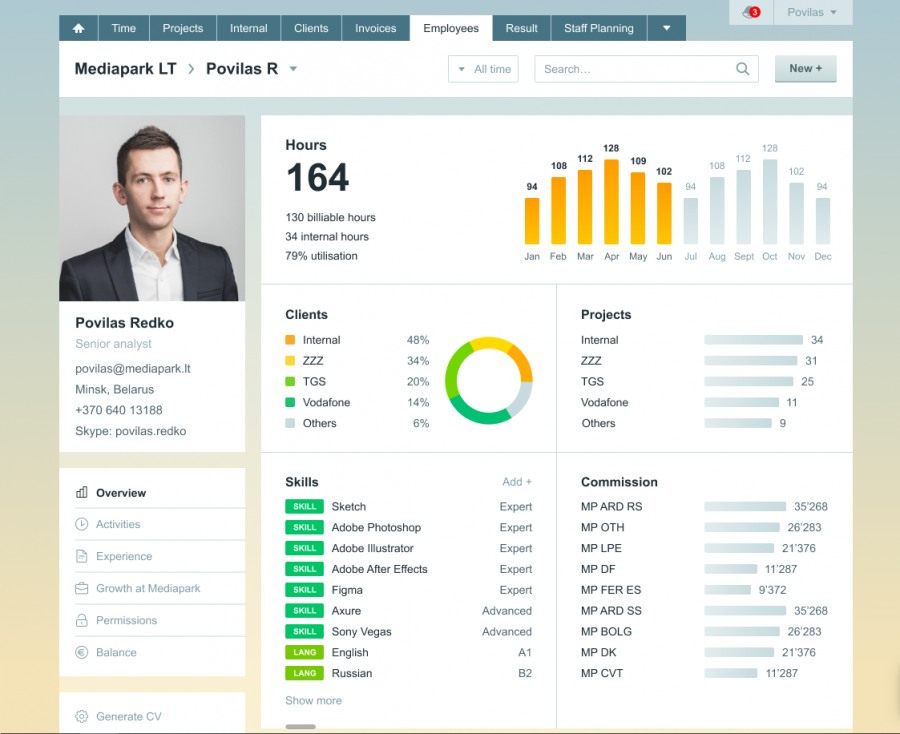 5. Calculate employee salaries and bonuses real-time. Having transparency over salary and bonuses is one of the key elements to keep employees motivated. Timebase employee management and staffing platform helps to automatically calculate salaries of employees over a given period of time, as well as assign commissions from projects and overall bonuses. This helps you to see real-time how much was earned and paid to a person and what is the amount owed to a person at a given period of time. Such automation decreases the workload of calculating the salaries, minimizes mistakes and raises transparency in the organization.

Conclusion:
During our collaboration with multiple professional services companies (legal/law, IT and software outsourcing, design, PR, marketing, branding, engineering and consulting) that use employee management and staffing solutions, we found out that proper management of employees helps not only to keep the best people, reduce employee turnover and ensure proper staffing on relevant tasks, but also increases professional involvement in projects and employee loyalty. 
Our platform is the best employee management and staffing solution, because it helps to manage all the employee related tasks from day 1.
To make your life easier, sign up for a free trial of Timebase and contact us ASAP if you need help setting it up!